We want to help churches create an atmosphere where the Holy Spirit inspires men to engage in life-on-life discipleship. The No Man Left Behind Model, developed out of 25+ years of Man in the Mirror's work with churches all over the country, allows you to organize the key concepts that result in an intentional strategy for discipling all your men that is customizable to your church.
We offer leadership training on the Model in two main formats: live training, or video-based  training, available online or on DVD.
Y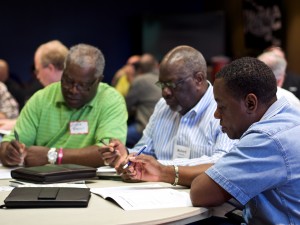 ou decide which one works best for your team!
No matter which training format you choose, we'll provide:
Practical teaching from qualified trainers
In-depth discussion questions
Hands-on planning exercises
Alumni support and/or consultation
Beyond the shared benefits, each format presents its own unique features. Read below to determine which training suits your needs.
YOUR LEADERSHIP TEAM'S PLANNING RETREAT
No Man Left Behind 3D: Develop, Disciple, and Deploy is a live, regional training, hosted at a church and facilitated by a Man in the Mirror trainer. It begins Friday evening and ends Saturday afternoon.
The features and benefits of bringing your team through this 11-hour training experience include:
12 interactive sessions with an experienced trainer
On-site consultation with the trainer and local field staff
Dedicated time to get away as a team for planning and refreshing
A one-year ministry plan to begin implementing right away
Tools and resources to bring back to your church
Post-training support, including a free year of online training
As you interact with your team members, faculty, and other churches, you will begin to build an ongoing game plan to reach ALL your men with a powerful vision and sustainable strategy.
The video-based No Man Left Behind Courseware is divided into two courses, Foundations and Methods & Tactics, and is currently available online (subscription-based) or as a DVD package.
The features and benefits of bringing your team through this comprehensive Courseware include:
Train as many leaders as you want, when you want
16 teaching sessions on video (8 per course)
Flexibility to complete the sessions at your own pace
Facilitator guides to equip you to guide your team
Participant guides with planning tools and discussion questions
Access to a consultation option
Foundations introduces the Model and provides an in-depth look at the principles churches are using effectively. Methods & Tactics takes you through specific strategies as your team applies concrete action steps to disciple every man.