Peoria, IL – No Man Left Behind 3D
Mar 16, 2018 @ 6:30 pm

-

Mar 17, 2018 @ 4:00 pm

$149.00
Co-Sponsored by the Central Illinois Coalition for Men's Discipleship
---
Develop, Disciple, and Deploy Every Man in Your Church
Thousands of leaders have seen their ministries transformed by the No Man Left Behind Model, a proven process for discipling men that is customizable to YOUR church.
At No Man Left Behind 3D, through 1 1/2 days of training, planning, discussion, and consultation, your leadership team will leave with a game plan to reach ALL your men with a powerful vision and sustainable strategy.
L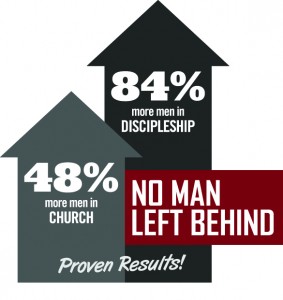 earn how to:
Create, capture and sustain momentum among men
Move from an isolated "men's ministry" mindset to an all-inclusive discipleship approach
Always show men a credible "next step" in their walk with Christ
Maximize the effectiveness of the opportunities already in place
Overcome current obstacles in reaching your men that are specific to your church
Plan out your next year of intentional ministry
And more!
Who should attend?
This training is designed for men's leaders, pastors, laymen, and potential NEW leaders. Due to the heavy planning nature of this event, we strongly recommend leaders attend in teams of two or more.
What is the cost?

UPDATE: Due to the generosity of local donors, this training conference is being offered at special reduced tuition rates. We pray this enables more leaders from your church to attend together as a team! Tuition is regularly $119-$179. *Group rates end March 2nd, after which all tuition will be $149.

Groups of 5 or more leaders = $89 per man
Groups of 3-4 leaders = $119 per man
Individual rate = $149 per man
What is included in tuition?
Tuition includes the workbook, all planning materials, and breakfast and lunch on Saturday.
Teams also receive a complimentary annual subscription to online training, 16 video sessions with downloadable guides to provide additional education and tools as you implement your ministry plans (up to $299 value).